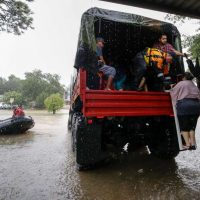 FEMA estimates over 30, 000 people will need shelter after Hurricane Harvey's flooding. 
450,000 people are expected to seek assistance. 
US Stations knows Hot Springs is a community of people who come together in times of trouble. That time is obviously now. The devastation Hurricane Harvey has created in Houston in unfathomable and many are asking,"how do we help?" Here's what you can do. The American Red Cross is already on the ground in Houston. A cash donation to the American Red Cross allows them to make the biggest impact.
US Stations wants to make this easy for our listeners. Head through any Garland County Arvest Bank drive through and ask to make a donation to the Hurricane Harvey Relief Fund. This account will be set up for the next few weeks and all cash donations will go to the American Red Cross and be used specifically for Hurricane Harvey relief efforts.
US Stations will also keep tabs on other fundraisers or other ways to help. Check back on any of our websites for additional information.
US Stations thoughts and prayers are with Houston.