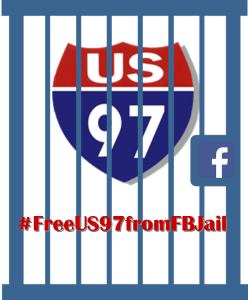 Our @US97Country Facebook Page has been taken down by Facebook! We've done all we know to do to rectify the problem, but Facebook just hasn't responded to our appeals. We need and love our FB page, because it keeps us connected to YOU!
So we've started a Free US97 From Facebook Jail
page,

so we can maybe get their attention that way. And we need your help.
Please share our Free US97 Facebook page, with the hashtag #FreeUS97FromFBJail. Here's how:
Under the cover photo, click the "Share" button

Type something like this (or just copy and paste) for your caption. (Note: If you're familiar with tagging, please tag @Facebook in the post):

We want @Facebook to give @US97Country their page back!! Help us #FreeUS97FromFBJail!

Make sure it's Public (not just for your Friends), and hit Post.
Thanks for helping out! Maybe we'll have our Facebook page back soon *fingers crossed*